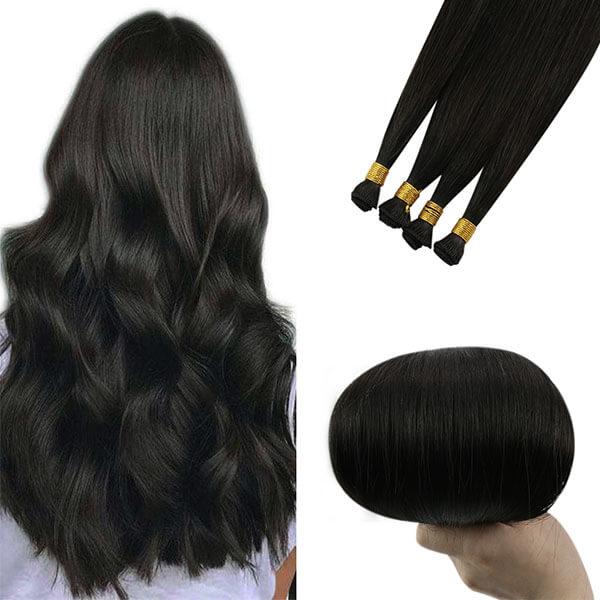 [50% OFF] Sunny Hand Tied Weft Hair Extensions 100% Virgin Human Hair Natural Black
Original price
$59.99
-
Original price
$88.99
About 150-200g for a full head.
Sunny Hand Tied Weft Extension
The "hand tied" refers to the way that the hair extensions themselves are made. Hand tied wefts are produced by manually tying hair to the extension seam and knotting it in place by hand. This method allows creating a very strong, but much thinner weft. Therefore, this weft is great for those with thin hair.
>Description of Hand Tied Weft Extensions<

>Hand Tied Extensions Pros and Cons<

>Difference between Wefts<

> Length & Color<

> Apply & Care <
>Description of Hand Tied Weft Extensions<
Sunny Hair Hand Tied Weft Extensions Quantity
14''-18'': 10 g/bundle,20''-22'': 15 g/bundle,10-20 bundles for full head.
Color matching service is available.
Sunny Hair Hand Tied Weft Extensions Texture
Silky straight, would get a little wavy after washing or improper packaging.
Sunny Hair Hand Tied Weft Extensions Quality
100% real hand-tied virgin human hair, natural, silky, and soft.

Can be curled, straightened, and restyled as your own hair.

Can be dyed, but only from a light color to a darker one, please take ONE piece for testing before dying all the hair.




Virgin hand tied weft hair due to good quality can last 6–12 months if taken care of well.
>Hand Tied Extensions Pros and Cons<
1. Adds natural fullness and length. The hand-tied wefts are so lightweight and slim that there is no bulkiness that can be visible.
2. The least damaging. Unlike many alternative extensions which use glue, chemicals and other adhesives, the hand-tied extension technique does not use any harmful chemicals or toxins.
3. Long-lasting. The wefts grow out with your natural hair, and they can last for up to 8 weeks before you need to have them removed and moved up.
4. Can style anyway. Some types of extensions limit your hairstyles, particularly up dos and high ponies because the bonds can be seen or difficult to move. Hand-tied extensions can be styled any way you like, and they move naturally with your own hair.
5. Suitable for most hair types. Previously, wefts were considered something that was only suitable for very thick hair because they were so heavy. Now, thanks to the lightweight hand sewn wefts, they are lightweight enough for most types of hair.
Note: Due to the nature of how hand tied hair is made, the weft CAN NOT be cut. Cutting the weft or removing the knots on the end of the weft will cause the hair to unravel.
>Difference between Wefts<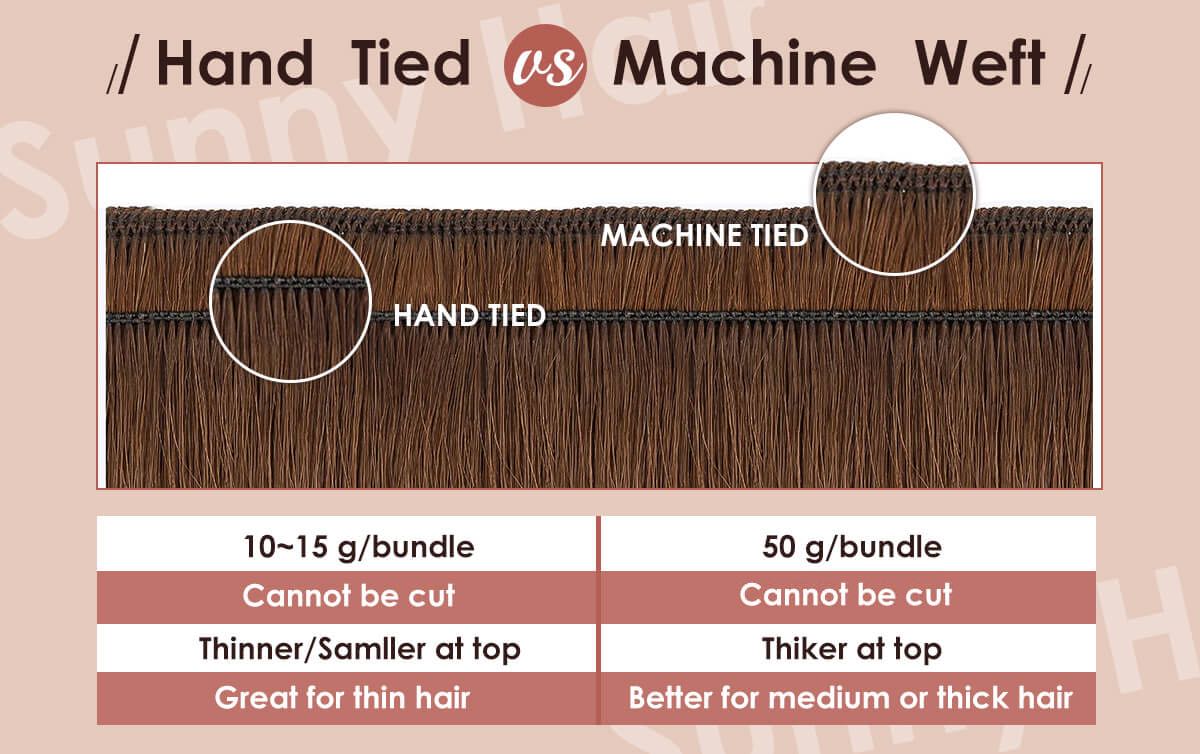 There may be differences in the position of the hair, reaching different heights.
If you need color custom or match, Please contact us:
service@g-sunny.com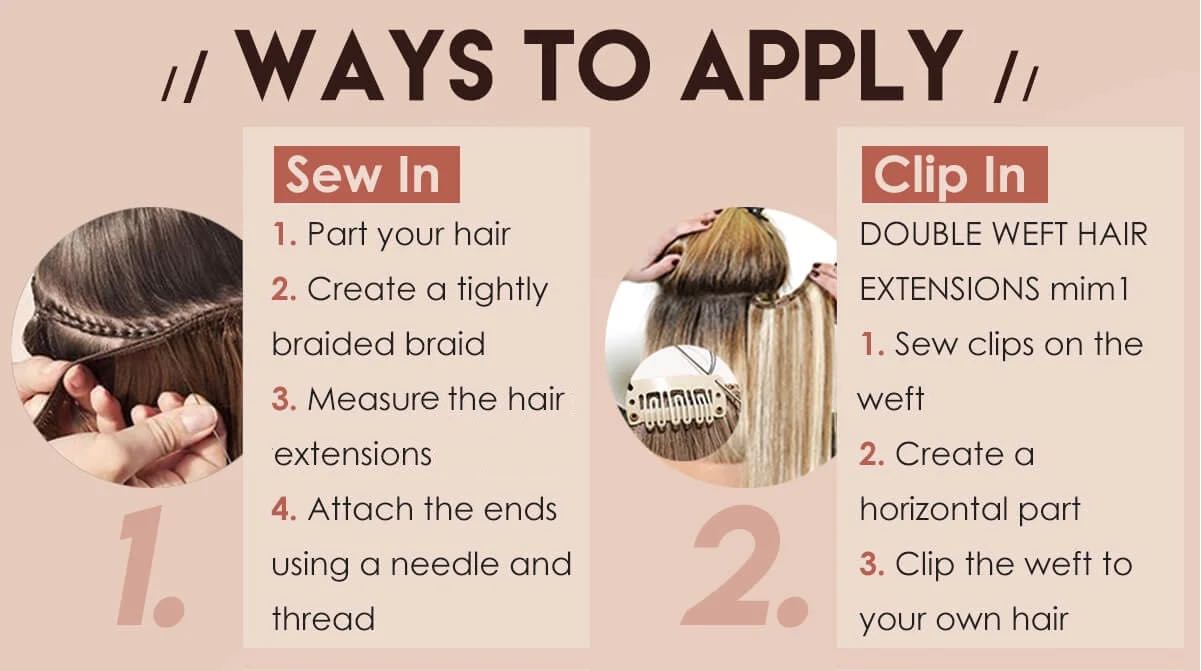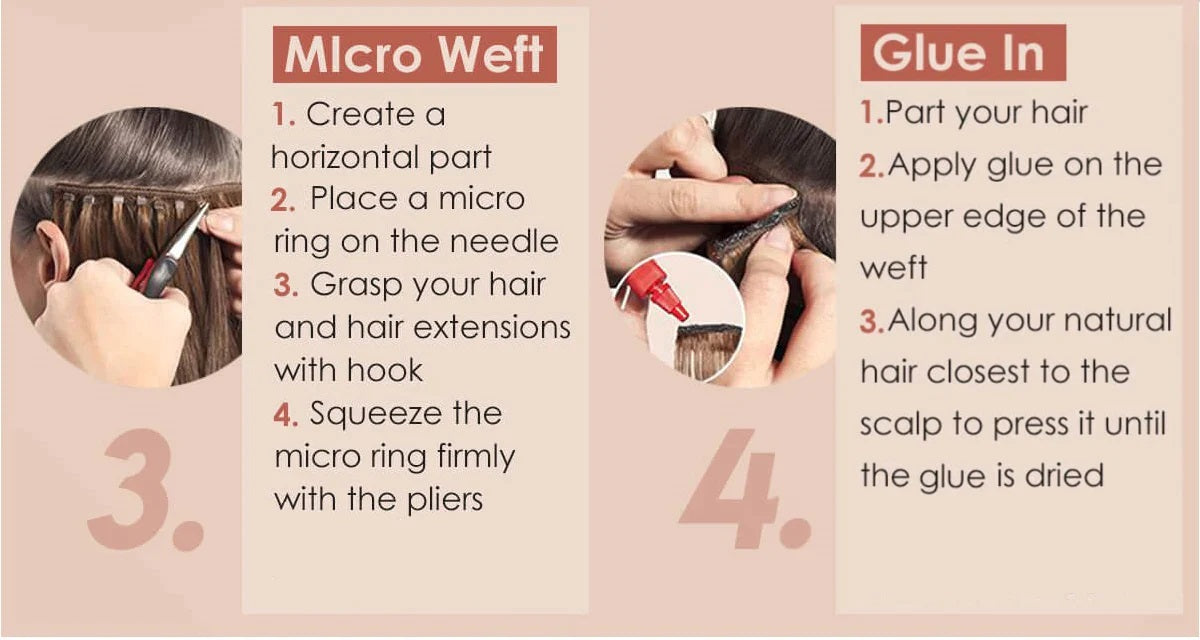 Sew In

Part your hair

Create a tightly braided braid

Measure the hair extensions

Attach the ends using a need lead thread
Clip In
Sew clips on the weft

Create a horizontal part

Clip the weft to your own hair
Micro Weft
Create a horizontal part

Place a micro ring on the needle

Grasp your hair and hair extensions with hook

Squeeze the micro ring firmly with the pliers
Glue In
Part your hair

Apply glue on the upper edge of the weft

Along your natural hair closest to the scalp to press it until the glue is dried



Take extra time for hair care. Hair extensions tangle easily, and extra hair means you'll take longer in the shower. Make sure to account for having more hair in the morning. Give yourself an extra 10 to 15 minutes to get ready every day.

Brush your hair regularly. Extensions are prone to tangling. To keep your hair looking fresh and natural, brush your hair at least twice a day while your extensions are in place. Remember, hair care may take extra time when you're wearing extensions.

Secure your hair overnight. As hair tangles easier, you should secure your hair overnight while wearing extensions. Pull your hair into a loose ponytail or braid it before bed. It can also help to sleep on silk pillows.