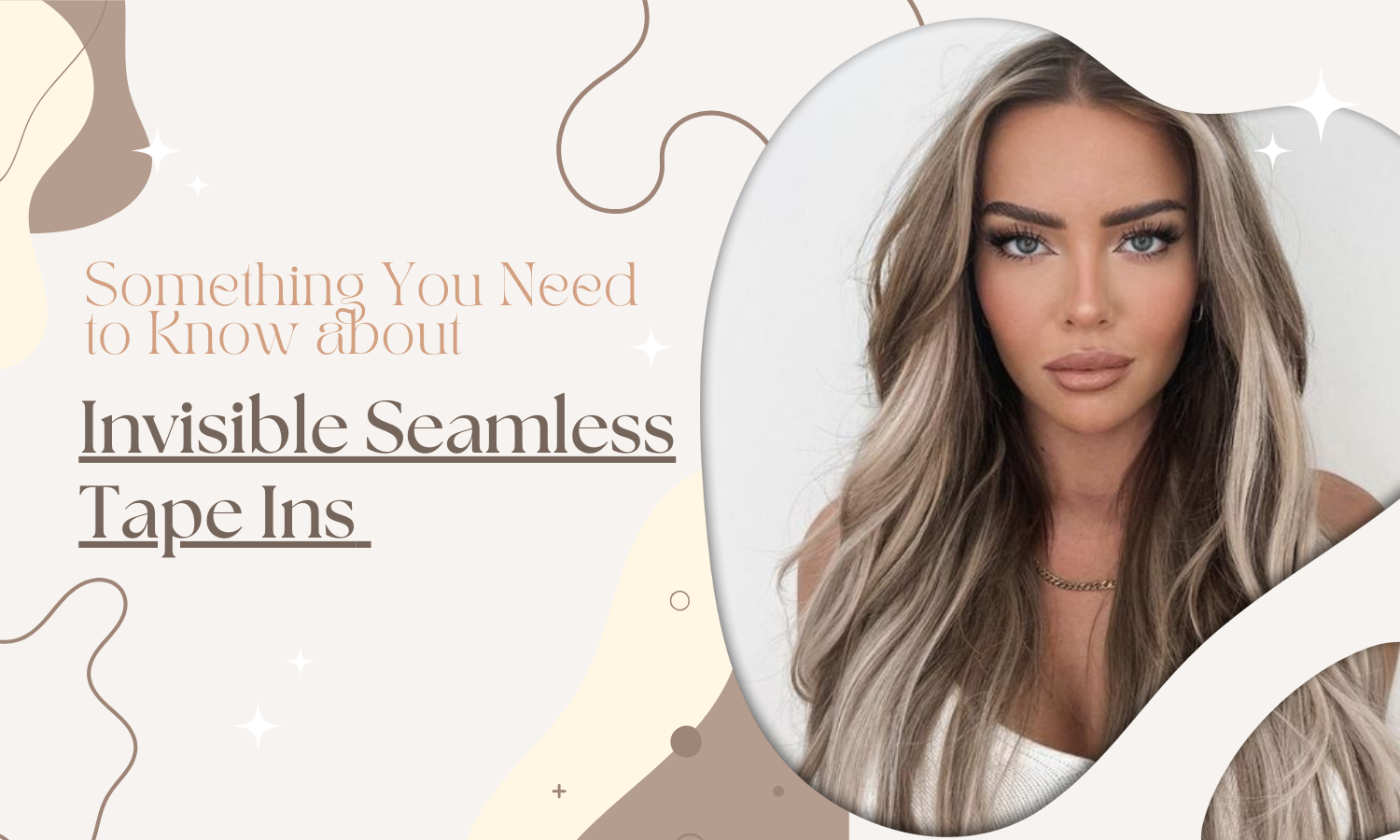 Something You Need to Know about Invisible Seamless Tape Ins
Everyone likes beauty, we know. Invisible seamless tape in hair extensions can help you change your tresses in a perfect way without causing any damages. Invisible seamless tape hair, a type of hair extension that is sleek, top-notch quality, gives a natural look, as well. 
What is invisible tape in hair extensions?
It is a prevalent type of tape-in extensions. With suitable long and wide sections, these hair extensions seamlessly adhere to add volume and length to your natural locks. The result is a seamlessly blended appearance, making it challenging to distinguish between the extensions and your own hair.
➤ Key Features
◆ Natural Blend
The invisible seamless tape ensures a perfect match with your existing hair, effortlessly enhancing volume and length. Its well-crafted sections seamlessly integrate with your locks for a flawless finish.
◆ Invisibility Advantage
The standout feature of seamless tape is the absence of shiny tape, making them virtually invisible. This results in a natural appearance, offering wearers the confidence of fuller, longer hair without the telltale signs of extensions.
◆ Versatility in Styling
Unlike some extensions, seamless tape allows for easy coloring and styling. Whether you prefer a high ponytail or intricate up-dos, this versatile extension adapts effortlessly to your desired look.
◆ Minimal Damage
The application of seamless tape involves minimal harm and damage to your natural hair. Its lightweight nature ensures comfort, allowing you to enjoy the added volume without feeling the tapes on your head.
Easy to color and style

, providing endless possibilities for creative hairstyles.
Enjoy the benefits of added volume and length without compromising on a natural look.

Lightweight and comfortable

, you'll forget you're even wearing extensions.
Requires patience and careful maintenance for optimal results.
Slightly more expensive than traditional tape-in extensions, reflecting its premium quality.
Seamless Tape vs Classic Tape
Both of these hair extensions are user-friendly, easily attaching to your existing hair. Their purpose is to enhance the beauty of your hair and revamp your overall appearance.
The invisible seamless tape extensions provide a more natural look compared to regular tape extensions, thanks to the absence of a shiny tape on the top surface. Hair strands intricately weave through a concealed section, mimicking the appearance of hair growing from the scalp. This style is particularly well-suited for those with finer hair.
Today, many women still favor traditional tape-in extensions due to their simplicity. However, if not worn correctly, the glue panel on the top of the hair may be visible. As your hair grows, there's a tendency for it to slide on its own, necessitating regular removal and reapplications.
Investing in seamless tape-in hair extensions is a wise decision. This enchanting hair system effortlessly delivers thick and voluminous hair without causing damage.