Something You Need to Know about Invisible Seamless Tape Ins
Everyone likes beauty, we know. People, especially women, want to be excellent in front of the crowd. Nowadays, there are many ways to make someone become more beautiful and attractive. Invisible seamless tape in hair extensions can help you change your tresses in a perfect way without causing any damages.

Invisible seamless tape hair, a type of hair extension that is sleek, top-notch quality, gives a natural look, as well. Over time, the hair is widely used by various wearers around the world.
What is invisible seamless tape in hair extensions?
It is a common type of tape-in extensions, referred to skin weft hair. With suitable long and wide sections, the hair item is attached to add more hair to your head. It blends your natural locks and ends with a realistic look. With human hair seamless weft, it can be challenging to detect the difference between the extension and your locks.
The highlight feature of seamless skin wefts is that it has no shiny tape showing. In other words, these tapes are invisible. Therefore, it offers wearers a natural hair volume and length. If you are unhappy with your thinning hair, this is your best companion. You can also wear skin weft with your thick tresses. As long as you choose the right hair colour and texture, you easily gain your desired hair.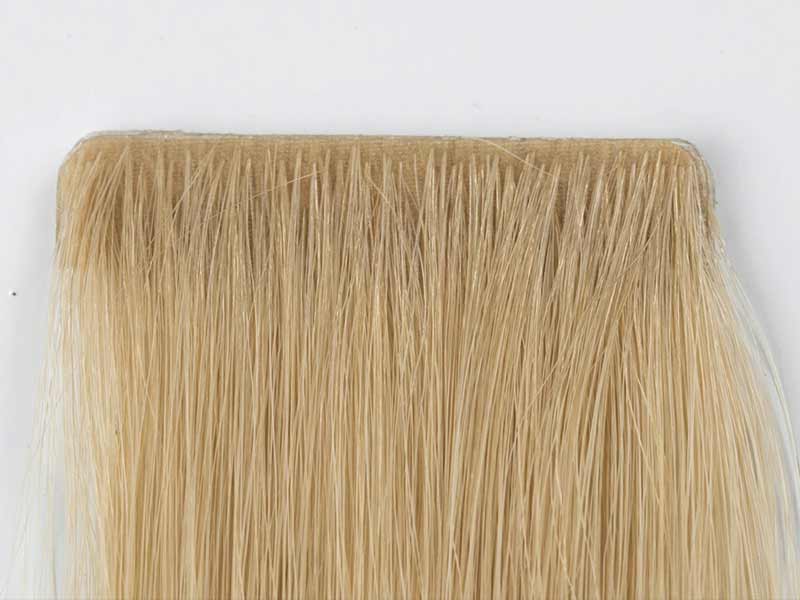 Match naturally with your existing hair
Easy to color and style. Therefore, users can wear hair in a high ponytail or up-dos
Offer a fuller and longer hair
Less harm and damage
Lightweight and comfortable, so you might not feel these tapes on your head 
It needs your patience to care
Higher expensive the normal tape hairs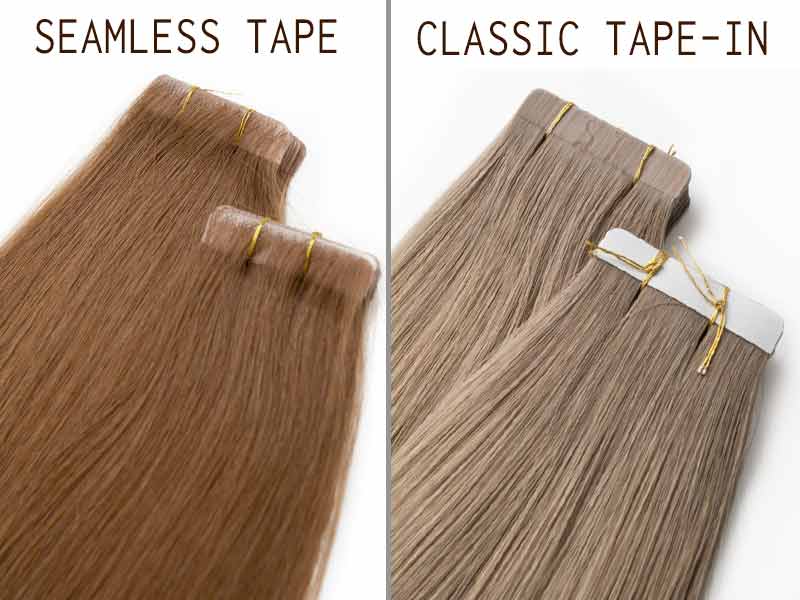 Seamless tape hair vs classic tape
The seamless tape is a kind of tape-in hair extension. Both of these hair items are easy to use and attach in your existing hair. They are designed to make up your hair beauty and switch up your appearance.

Seamless tape hair extension
Skin wefts look more natural than normal tape extensions as there is no shiny tape across the top. Hair strands are threaded through a hidden section that imitates hair growing from the scalp. It is super suitable for those with finer hair. 

Traditional tape-in extensions
Today, traditional tape-in extensions are still favoured by women as they are pretty simple. However, the glue panel on the top of the hair may be exposed if you don't wear it correctly. When your hair grows, it tends to be slide on your own hair. You have to remove and reapply it regularly.

Seamless tape in hair extensions are beautiful and it is worth to invest. This magical hair system helps you easily reach thick and voluminous hair without causing hair damages.