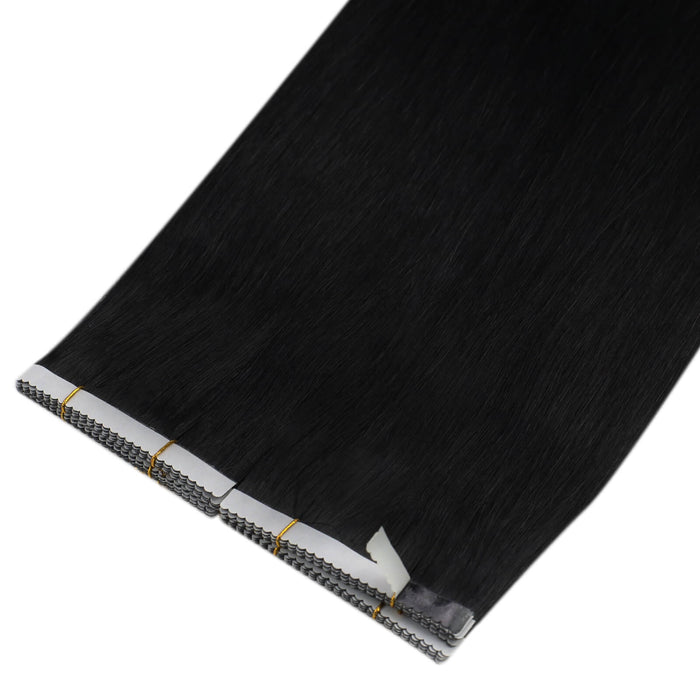 Sunny Hair Flower Virgin Tape Hair Extensions Human Hair Extensions
Original price
$82.70
-
Original price
$596.35
About 150-200g for a full head.
>What is Virgin Flower  Tape  hair extension<

>Description<

Why Choose Sunny Hair Virgin Flower Tape

>Remy Hair VS Virgin Hair<

>Length Guide<

>How to Put in Flower Tape in Extensions <

>How to Replace Tape<

> FAQ <
>What is Virgin Flower  Tape  hair extension<
 Virgin FlowerTape is selected from Ponytail hair, virgin hair is the best product of all hair extensions, it is more precious and expensive. The cuticle remains intact and all the hair runs in the same direction from root to tip. The flower design reduces the interface area and reduces the feeling of falling, making it a comfortable.
Name:  Virgin Flower Tape
Material: 100% virgin human hair
Length and width: 8 cm width per piece, 14" 16" 18" 20" 22" 24" various lengths to choose from
Quantity and gram weight: 5 pieces/pack;14''-16''20g/pack;18''-24'' 25g/pack
Hair extension recommendation: 100g-150g is recommended for replenishment, 150g-200g is recommended for full head.
Why Choose Sunny Hair Virgin Flower Tape
1. The use of quality real human hair: hair soft and healthy, hair vitality and toughness, long hair life, can be trimmed and dyed at will
2. Upgrade micro nano tape : no bubble not open glue, stronger adhesion, hair extensions firm and not easy to residue
3. Full hair tail modeling good: manual selection, short hair less, choose the length of the same real hair, full and neat hair tail
4. Tiny Interface: small interface, no hair damage
5. Petal design: reduce the interface area, reduce the feeling of falling
6. Can be cut: after cutting can be used to increase the volume of hair near the hairline, both sides or bangs, more invisible and natural.
>Remy Hair VS Virgin Hair<
More about Remy Hair And Virgin Hair
There may be differences in the position of the hair, reaching different heights.
>How to Put in Flower Tape in Extensions <
1. Separate out a small bunch of hair. (Too much hair caught in the middle will affect the stickiness of the tape)
2. Install the flower injection tape 1~2 cm away from the hair root
3. Place your hair on one part of the tape, fold the remaining part of the tape to bond with the other part of the tape. You may also place one tape under the selected hair
 Place another tape above the selected hair
4. Use pliers or low temperature straightener to fix the interface again, so that the tape is completely bonded
Use a few drops of remover between the two strands applied.

Wait about one minute and put the upper piece down first

Spray remover again If needed.

Put another piece down, rub it with your fingers to remove the glue residue.

Peel off the white backing

Match the tape in hair from corner to comer.

Press firmly so tape adheres to tape hair.

Peel the hair with the tape and apply.
IMPORTANT TIPS
Dry well the lock before place the new tape tabs.

Keep the replacement adhesives are of the same size as the tape extension lock.
Can I swim, exercise or go in the sauna?
You Can. We recommend applying and leaving in conditioner prior to swimming. This nourishes the hair and allows it to absorb the moisture. This prevents the hair from absorbing harmful elements, such as chlorine and minerals. Hair tangles when dirt and sweat build up, so advise clients to wear their hair up or in a ponytail when exercising or relaxing in a sauna. They must be sure to wash their hair after working out, as well as brushing before and after exercising. Exposing extensions to sunscreen may cause discoloration.
Can I use Hot Tools on my Tape-in Hair Extensions?
Yes, you can use hot tools (curling irons, wands, flat irons and blow dryers). We recommend using a heat protectant on each section prior to applying heat. The temperature of your hot tool should be set no hotter than 160 degrees. Heat cannot be applied directly to the tab.
Can I Go to Sleep With Wet Hair?
We recommend the hair be at least 80% dry and bound in a loose, low braid.
Do Tape in Extensions Ruin Your Hair?

Sunny hair tape used in our hair extensions is a medical adhesive and is hypo-allergic-made in the USA. Our tape in hair extensions use high-quality and strong adhesive invisible double-sided tape, which can be reused. It's completely invisible and looks very natural. The most important thing is to use healthy materials that won't damage your hair, It is comfortable and natural to wear.