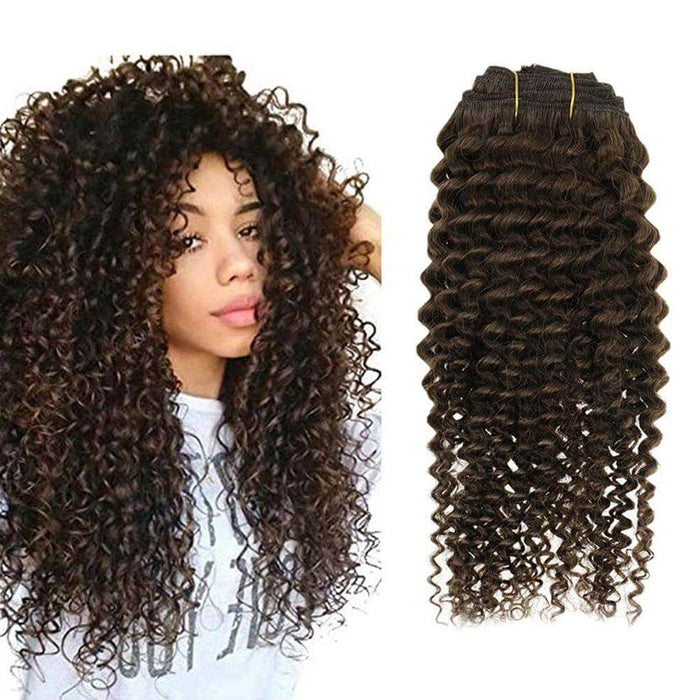 [Kinky Curly] Curly Clip in Real Hair Darkest Brown #2
Original price
$278.98
-
Original price
$299.78
About 150-200g for a full head.
Curly Clip in Hair Extensions

Hair texture: Kinky Curly
Hair length: 16"-22"

Hair using: Can be curled, straightened, washed and cut.
Hair specification:120/pack (100G Hair and 20G Clips)
Care for curly clip ins:

Sunny Curly hair extensions clip in
1.Before washing, gently comb your hair extensions with a wide-toothed comb.
2.Opt for sulfate-free products and use warm water when washing your hair.
3.Avoid rubbing or twisting the hair while washing. For straight hair, gently smooth downwards from the ends, moving upwards towards the roots.
4.After rinsing off the shampoo, apply the conditioner.
5.It's important to be cautious with heating tools, ensuring that the temperature remains below 160 degrees.
Sunny Curly hair extensions clip in
How to choose the color?
Do not worry. We have a free color matching service. You only need to send a few photos of your hair to us. We will help you find the perfect color.
How to tell if it is a real human hair?
You can select a few strands to test. Genuine hair will produce white smoke and a burnt feather scent when burned. In contrast, synthetic hair will result in black smoke and a sulfur-like odor, similar to rotten eggs.