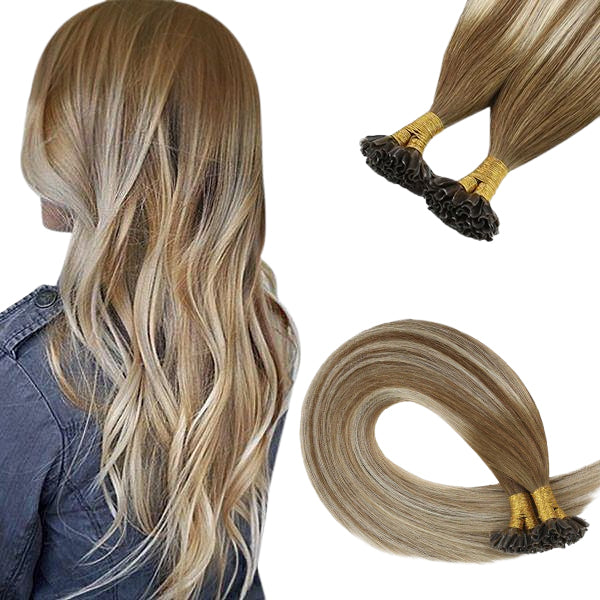 U Tip Balayage Brown Highlight Human Hair Extensions #6/60/6
Original price
$43.99
-
Original price
$179.99
About 150-200g for a full head.
U Tip Human Hair Extension
>Description<

>Advantages<

> How to Apply <

>Damage<

>Before and After<>Length Guide<

>Color Match<

>Hair care<

>FAQ<
1g/strand, 50g per one package, 100-150 strands for full head attachment.
Silky straight, would get a little wavy after washing or improper packaging.
100% Real Remy human hair, Natural, Smooth, Soft, No Tangle and Shedding Free.
You can curl, straighten, and restyle it just like your own hair.
It is possible to dye the hair, but only from a lighter color to a darker one. We recommend conducting a dye test on ONE piece before applying color to the entire bundle.
A U-tip or nail-tip extension is a kind of hair extension that has a "U" shape. It's attached to the hair using heat and is also known as hot fusion hair extensions.
Long-Lasting: Keratin extensions are built to stay in place for a while (around 3-6 months, depending on how you use and take care of them).

Invisible: The u-tip attachments being super thin, they are virtually undetectable and also comfortable that you don't even fe
Easy to Take Out: You can easily remove the keratin extensions using a special solution.

U Tip hair extensions are commonly referred to as Hot Fusion hair extensions. Thus, it's important to keep a few things in mind when installing them.
Work with clean hair that doesn't have conditioner applied (conditioner might interfere with the heat-melting process).
Avoid washing your hair for the first 24 hours after the installation.
When caring for your extensions, be cautious not to brush too close to the roots.
Sunny U-Tip extensions are crafted using premium Keratin, a protein naturally present in hair. This makes them gentle on your hair and ensures they won't cause any damage.

>Before and After<>Length Guide<
There may be differences in the position of the hair reaching different heights.
If you need match length or color custom, please contact us:  service@g-sunny.com
Giving your hair proper conditioning is a vital aspect of effective hair care. Another benefit is its role in achieving smoother hair. When applying conditioner, start from the tips and work your way up towards the roots. Remember to steer clear of your scalp and the point where your hair extensions are attached.
Our

blog
Yes, you can dye our human hair extensions. Remember, it's best to go from lighter to darker shades. We strongly advise seeking a professional hairstylist for the dyeing process to ensure optimal results.
The lifespan of your hair extensions largely depends on your maintenance routine. With proper care, treating them as you would your natural hair, they can last well beyond 6 months.
Dry hair might be the cause. Ensure regular washing and conditioning, aiming for at least once a week, preferably twice. Regular combing can also prevent tangles. If the problem continues, seek advice from your stylist.