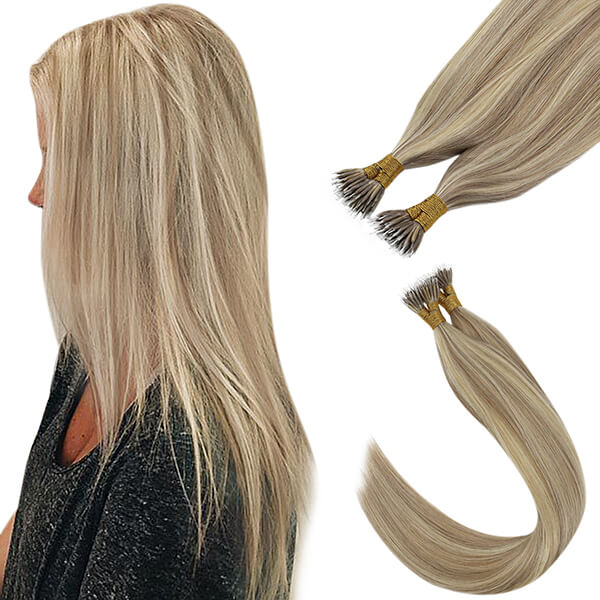 Pre Bonded Nano Ring Human Hair Extensions Blonde Highlights #P18/613
Original price
$78.70
-
Original price
$278.92
About 150-200g for a full head.
>Description<

>Advantages<

>How to Apply<

>Before and After<>Length Guide<

>Color Match<

>How to Wash<

>Hair Care<

>Shipping & Delivery<

>FAQ<
      1g/strand, 50g per one package, 100-150 strands for full head attachment
      Silky straight, would get a little wavy after washing or improper packaging.

100% real remy human hair, natural, silky and soft.

Can be curled, straightened, and restyled as your own hair. Please notice that the temperature should be under 160 degree.

Can be dyed, but only from light color to darker one, please take a small strand for testing before dying all the hair.
Nano Tip Hair Extensions are small wefts of pre-bonded hair that are attached to the client's natural hair using Nano Rings, which are 90% smaller than most micro rings, making for a seamless bond.
Nano rings are smaller than micro ring hair extensions and are this upper discreet.

When you perfectly fit these well, they can stay secure for a longer time without much hassle.

Nano rings are perfect for women who have thin hair to gain more volume and length.
Prepare to load your threader with a nano-ring, then simply thread the bead over the hook so the nano-ring is resting on the stick, to save time with the application you can load extra rings on the threader.
1)Separate the hair into two sections.
2)Using threader, simply hook the hair and feed the first bead over the hook, which will feed the hair through the nano-ring.
3)Then feed the metal hook from the nano-tip extension into the nano-bead.
4)Insert tip point hair through the tube.
5) Using your smooth-jaw pliers, clamp the nano ring so its nice and secure, this will hold the extension in place.
6)Repeat the above steps until you have finished the full head application!
>Before and After<>Length Guide<
There may be differences in the position of the hair reaching different heights.
Detangle hair gently before washing. Comb your hair extensions with a spacious wired comb; Do not comb or brush the hair extensions while hair is wet.;
With warm water gently wet the extensions. Put shampoo with low or absolutely no sulfates on them.
Apply conditioner. Once you've rinsed out the conditioner and they've dried, comb through the extensions so they're not tangled.
Do not Rub or Twist hair when you wash them. Crush straight hair in a downward motion starting with the ends, work your way up to the roots.
Conditioning your hair is one of the most important steps towards good hair care. What it also helps with is smoothing the hair. Apply a conditioner at the tips and move upwards towards the roots. Avoid your scalp and the connection of your hair extensions.
Learn more about hair extensions ,please visit our?blog?
Yes, the hair can be dyed as it is human hair. But there is a general rule that hair can be dyed from lighter color to darker color.And we suggest you to ask the professional hair stylist to dye for you.
It depends on how you maintain it. Treat it like your own hair and take very good care, normally it could last longer than 1 year.
It could be caused by dry hair. Please make sure to wash & condition your hair at least once a week, twice a week is better. Comb the hair from time to time. You could go to your stylist for further suggestions.