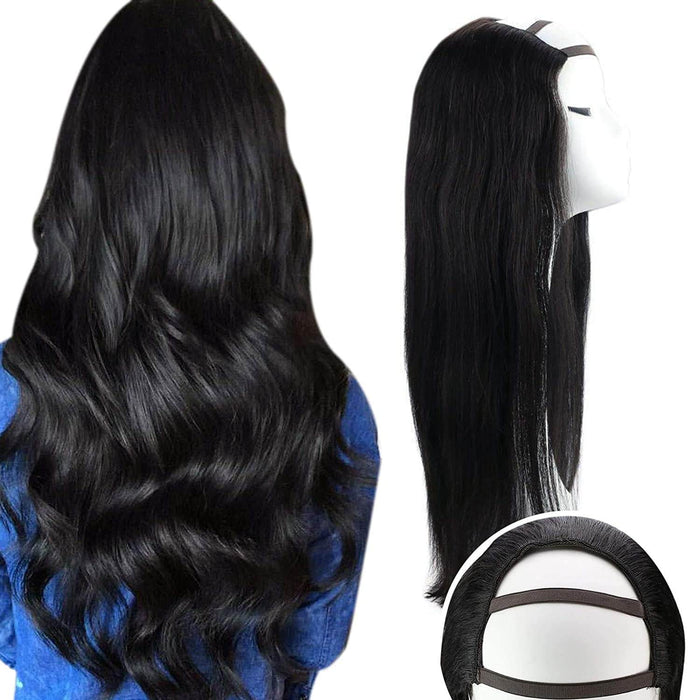 U Part Wigs Human Hair With Clips Black Clip in Half Lace Wigs #1
Original price
$64.99
-
Original price
$145.99
About 150-200g for a full head.
Sunny Hair U Part Wig

>Description of U Part Wig<

> Advantages of U Part Wig<

> How to Put on an U Part Wig<

> How to Masure the Length of Wig<

> Color March<

> FAQ<
>Description of U Part Wig<
Innovative hair extension concept, lets you pull a small section of your own hair through a U-shaped opening in the crown of the wig cap. This opening allows you to reveal your own scalp for a hairstyle that looks even more natural. Blend the hair you've pulled through the U-part with the hair extension for a perfect, seamless finish.
About Hair Length: We recommend selecting a wig length that is slightly longer than your own hair.

Weight:
12" :100g

14" & 16" : 120g

18" & 20" : 150g
100% authentic remy human hair, boasting a natural, lustrous, and texture.
Easily shapeable, this hair allows for curling, straightening, and personalized styling just like your own locks. Remember, when using heat tools, keep the temperature below 160 degrees for optimal care.
Dyeing is possible, but limited to transitioning from a lighter to a darker shade. Before dyeing all the hair, kindly perform a strand test using a small section.
> Advantages of U Part Wig<
U-Part Wig with clips, making it effortless to achieve luxurious and voluminous hair.
The wig seamlessly blends with your natural hair.
The cap can be easily adjusted to fit your head and the straps can be trimmed if needed.
Clips feature silicone for enhanced comfort and security.
> How to Put on an U Part Wig<
> How to Masure the Length of Wig<
The hair length is measured from the top of the head to the bottom of the hair in its straight state.
Curl and wavy wigs are created from straight wigs, so they maintain the same length.
Visually, curl and wavy wigs may appear 1"-2" shorter than straight wigs due to the curl pattern.
There may be differences in the position of the hair, reaching different heights.
If you need to match length, please contact us:service@g-sunny.com
Absolutely, you can dye the hair since it's made from real human hair. However, it's generally recommended to go from a lighter color to a darker one. We advise seeking the expertise of a professional hair stylist for the dyeing process.
The lifespan varies depending on how well you maintain it. With proper care, treating it as you would your natural hair, it can often last beyond 6 months.
Dry hair might be the culprit. It's important to ensure you wash and condition your hair at least once a week, with twice a week being even better. Regularly comb the hair to keep it in good condition. If needed, consulting your stylist for additional advice is recommended.