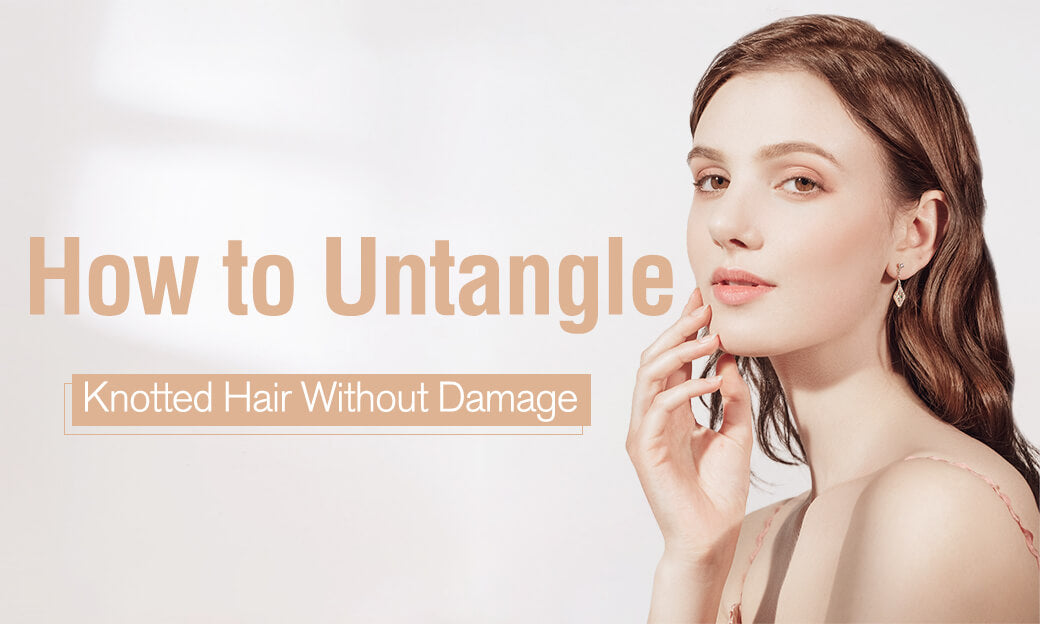 How to Untangle Knotted Hair Without Damage
Do you feel tired of removing your extensions after a long day, only to find them tangled and matted? Do you hate brushing your hair, in fear of ripping out knots? If you're over tangled hair and knotted extensions - you've come to the right place. In this post, we'll show you how to untangle knotted hair without damaging it. If you're interested, please read on!
How To Detangle Your Hair?
1. Conditioner
Conditioning your hair is one of the most important steps towards good hair care. What it also helps with is smoothing the hair. Apply a conditioner at the tips and move upwards towards the roots. Avoid your scalp and the connection of your hair extensions. Leave on the conditioner for 5 minutes, gently comb your hair to detangle, and rinse by warm water.
2. Detangling Spray
Detangling hair spray is definitely worth the money. It helps reduce the tension between the hair while detangling. Detangling sprays can be used on both dry and damp hair. They need not be rinsed out. The sprays contain ingredients like shea butter to soften your hair so that detangling becomes easy.
 3. Water
Moisture can make detangling easier. It helps remove the tangles without harsh pulling. Fill a spray bottle with water to lightly mist your hair as you detangle until your hair is completely detangled.
4. Wide-toothed comb
Have you been overlooking the importance of a wide-toothed comb? Wide-tooth combs and paddle brushes help detangle hair in a much painless way. They are gentler on your hair.
5. Begin from the bottom
One hair care mistake that most of us make is by combing the hair from the roots. Start from the bottom of the hair. Comb some inches at the bottom and work your way upwards gently. This helps prevent hair breakage and the pain at the scalp due to aggressive pulling.
7. Hair masks
If your hair is prone to regular tangles, it may be a sign of dry hair. Use a hair mask packed with moisture to provide your hair instant hydration and prevent future tangles .
Tips To Avoid Tangled Hair
Regularly wash and condition your hair with gentle products.
Avoid sleeping in your hair pieces.
Moisturize the ends of your hair with a conditioner or hair oil to prevent dryness and breakage.
Get regular trims to avoid split ends.
Sleep with your hair tied up or in braids.
Allow hair to air dry or use a microfiber towel to avoid breakage.
Sleep with a satin pillowcase to keep hair soft and moisturized.
Hope you stop being bothered by tangled hair and follow our simple tips to pamper your hair in the right way step by step. Most importantly, be gentle with your hair. Thanks for reading!
You might like these: