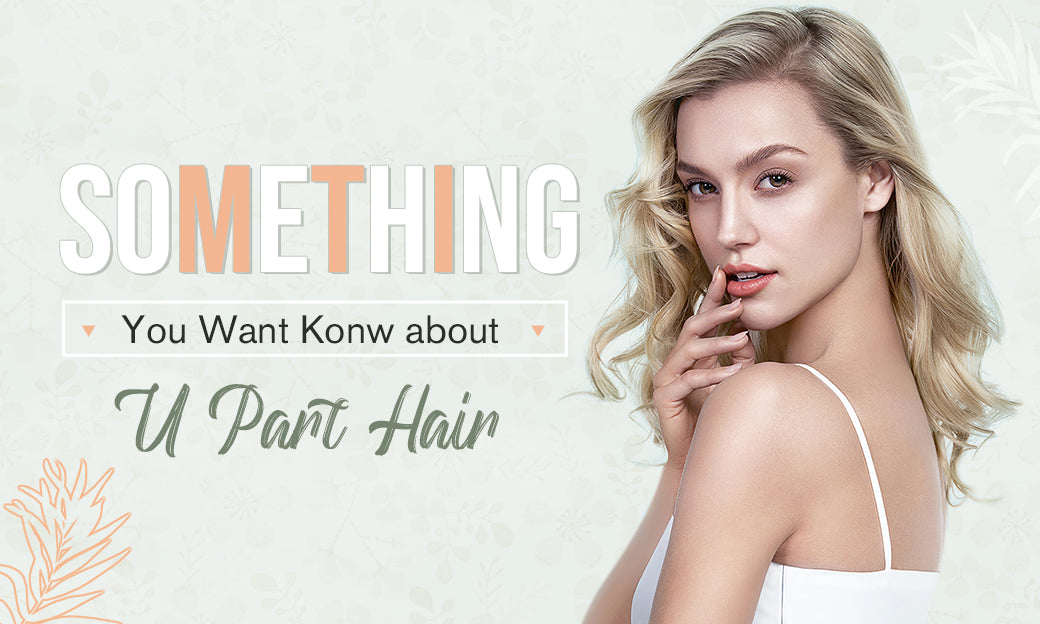 Something You Want Know About U part Hair
There's no denying that protective hairstyles reign supreme in the beauty world. A great way to protect your hair from the elements while rocking a stylish 'do, they simply can't be beat. Lace front wigs have become a hot commodity, but they aren't the only protective style option that involves a wig. There is a way you can stay true to the wig trend without fully covering your strands—U-part wigs, it's your time to shine!
U-part wigs are perfect for experimenting with various styles, textures, or cuts you fancy. Best of all, you can sport a natural look without the fear of a wiggy appearance. No wonder hair gurus and celebs alike can't get enough of this hairstyle trend. Want to try a U-part wig on for size? Follow along as we share everything you need to know about U-part wigs, so you can achieve a flawless look.
WHAT IS A U-PART WIG?
First things first: What is a U-part wig? U-part wigs, aka ¾ wigs, are hair extensions that are sewn on a U-shaped wig cap that features fine sheer mesh and clips underneath. Typically, U-part wigs come in an array of sizes to suit your needs. You can choose a center, middle, or side U-part to achieve your desired style. Since the U-shape part is constructed at the top of the wig, this offering allows you to wear your natural hair through that opening. As a result, you'll be able to blend your natural hair with the wig and cover the extensions to achieve a more natural-looking hairline—all without spending too much time in the mirror. Not to mention, your natural hair will be able to breathe, which is always a plus!
ARE U-PART WIGS GOOD FOR YOUR HAIR?
Unlike other wig options, U-part wigs allow you to add your natural hair into the mix. So naturally, you may be asking yourself, are U-part wigs good for your hair? The answer is a resounding yes! U-part wigs work like most protective styles to keep your strands stylishly tucked away. Since you have access to your hair, you can regularly shower your strands with the TLC they need to look and feel their very best.
However, U-part wigs can have the opposite effect on your hair if you don't take the proper installation and aftercare measures. As long as you keep your hair in tip-top shape and wear your U-part wig the right way, you should be good to go. 
HOW TO INSTALL A U-PART WIG
Looking to master the U-part wig trend? Follow along as we share a step-by-step tutorial on how to install a U-part wig the right way.
STEP #1: MEASURE YOUR HEAD
To kick things off, you'll need to place the U-part wig over your head. This step will let you know how much hair you need to part for a seamless look.
STEP #2: PART YOUR HAIR
Next, it's time to part your hair. Using a rattail comb, part your hair at your crown to match the U-part wig shape. Be sure to also part about an inch-wide section from your hairline to the ear. Clip this hair out of the way. This will come in handy when you're ready to style your hair.
STEP #3: CREATE YOUR FOUNDATION
Now that your hair part is in good shape, it's time to get your remaining hair as flat as possible so your wig can lay evenly. Kick things off by creating small Dutch braids or twists, making sure to braid or twist your hair to the ends. Working with short strands? Simply smooth your mane with a bit of hair gel to keep your strands in place.
STEP #4: WIG IT OUT
Holding the U-part wig at both sides, place the wig over your head and snap the clips in place to cover your braids. There should be clips along the perimeter of your U-part wig to ensure a seamless fit. As a result, your U-part wig should lay flat on your head with your hair part clipped in place.
STEP #5: ADJUST YOUR WIG
As we mentioned above, U-part wigs typically come equipped with an adjustable strap and clips to give you the best possible fit. If you find that you need more support, simply place the strap over your head to secure your wig. This helps to reduce the risk of the wig sliding on your head.
STEP #6: MASK THE HAIR EXTENSIONS
Your U-part wig look is almost complete! Now that your wig is firmly in place, you need to disguise the hair extensions on your wig. Release your hair part along the sides and the crown of your head. Comb through with a wide-tooth comb for a gorgeous finish. 
HOW TO CARE FOR A U-PART WIG
Just like other wig styles, U-part wigs can cost a pretty penny. So, it's essential to keep your wig in mint condition to get the most out of the style. Consider adding our five tips below to your U-part hair care rout.
1.HANDLE YOUR U-PART WIG WITH CARE
It's always smart to hold your U-part wig gently by the edges. Since this wig is made with a sheer mesh underneath, excessive pulling or tugging can ruin the shape and overall look of your wig.
2.WASH AND CONDITION YOUR WIG
Who says you shouldn't wash U-shaped wigs? If your wig is made from human hair, it must be washed and conditioned just like natural hair using a moisturizing hair care system.
3。DETANGLE WITH A WIDE TOOTH COMB
If you want to keep your U-shaped wig looking fresh, it's crucial to always use a wide-toothed comb during brushing. It's the best way to protect your wig and smooth out tangles, knots, and tousled hair without fuss.
4.PUT YOUR BLOW DRYER ON ICE
While you may be tempted to reach for a blow-dryer, we advise against it. Excessive heat can take a toll on your wig. Instead, allow your strands to air dry to keep your wig in proper shape.
5.MAKE HEAT PROTECTANT YOUR BFF
Depending on the texture of the U-section wig, you may need to rely on a heat styling tool to perfectly blend your natural hair with the wig. Before you use any heat tools, you need to spray heat protectant on wigs and natural hair.
HOW DO YOU WEAR A U-PART WIG?
As we mentioned above, U-part wigs are a great way to try your hand at various styles. Since the installation process requires you to part your hair to disguise your wig, finding the right hairstyle is a breeze. So, if the question of how do you wear a U-part wig has been on your mind, there are plenty of ways to rock the 'do. From half-up hairstyles to pretty hairstyles and haircuts for long hair, the possibilities are endless for a statement-making look.