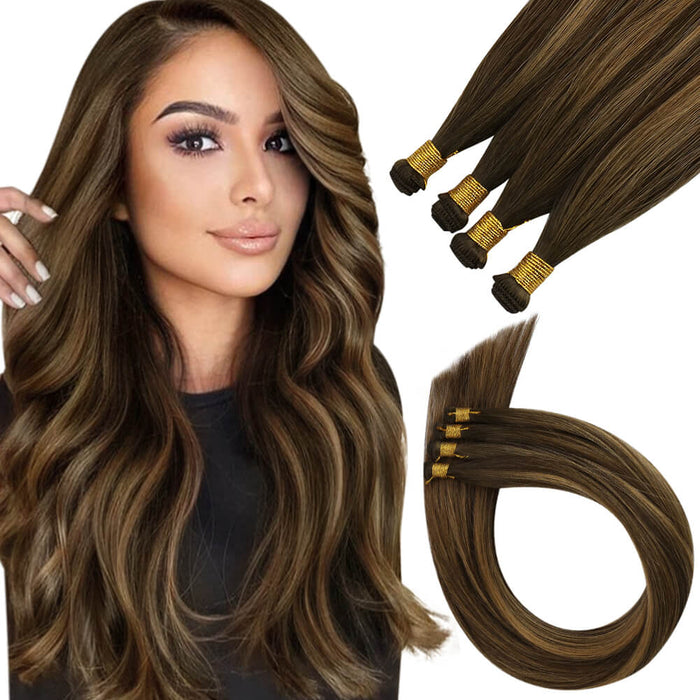 Hand Tied Wefts 100% Virgin Human Hair Extensions Balayage Brown to Blonde #DU
Original price
$52.62
-
Original price
$1,297.18
About 150-200g for a full head.
Sunny Hand Tied Weft Extension
The term "hand-tied" pertains to the method of crafting hair extensions. Hand-tied wefts are created by individually fastening hair onto the extension base and securing it in place by hand-knotting. This technique results in an exceptionally robust yet significantly finer weft. Consequently, this type of weft is highly suitable for individuals with thin hair.

>Description of Hand Tied Weft Extensions<

>Hand Tied Extensions Pros and Cons<

>Difference between Wefts<

> Length & Color<

> Apply & Care <
>Description of Hand Tied Weft Extensions<
Sunny Hair Hand Tied Weft Extensions Quantity
14''-18'': 10 g/bundle,20''-22'': 15 g/bundle,10-20 bundles for full head.
Color matching service is available.
Sunny Hair Hand Tied Weft Extensions Texture
Silky straight, would get a little wavy after washing or improper packaging.
Sunny Hair Hand Tied Weft Extensions Quality
100% real hand-tied virgin human hair, natural, silky, and soft.
You can curl, straighten, and restyle it just like your own hair.
It is possible to dye the hair, but only from a lighter color to a darker one. We recommend conducting a dye test on ONE piece before applying color to the entire bundle.

Due to its exceptional quality, virgin hand-tied weft hair can last between 6 to 12 months with proper care.
>Hand Tied Extensions Pros and Cons<
1. Enhances natural fullness and length. The hand-tied wefts are incredibly lightweight and thin, ensuring there is no visible bulkiness.

2. The gentlest option. Unlike numerous other extension methods that involve glue, chemicals, and other adhesives, the hand-tied extension technique avoids the use of any harmful chemicals or toxins.
3. Long-lasting. The wefts seamlessly blend with your natural hair growth and can remain in place for up to 8 weeks before requiring removal and repositioning.

4.Versatile styling options. Unlike certain extension types that restrict your hairstyle choices, especially updos and high ponytails where visible bonds or limitations arise, hand-tied extensions allow for unrestricted styling creativity. They seamlessly adapt to any hairstyle and move naturally in sync with your own hair.
5. Appropriate for a wide range of hair types. Historically, wefts were predominantly recommended for individuals with very thick hair due to their substantial weight. However, the advent of lightweight hand-sewn wefts has transformed this perception, rendering them suitable for most hair types due to their reduced weight.

Note: Because of the construction of hand-tied hair, the weft CANNOT be cut. Trimming the weft or undoing the knots at its end will result in the hair unraveling.
>Difference between Wefts<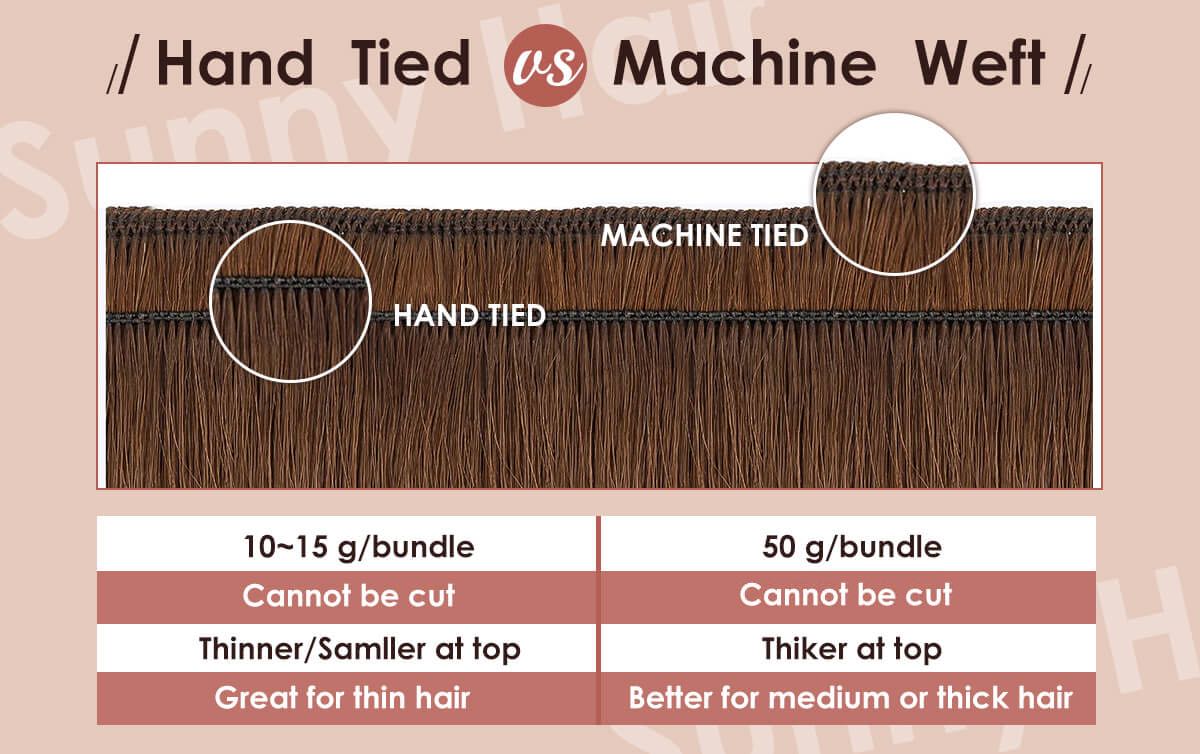 There may be differences in the position of the hair, reaching different heights.

If you require custom colors or color matching, please reach out to us at

:
service@g-sunny.com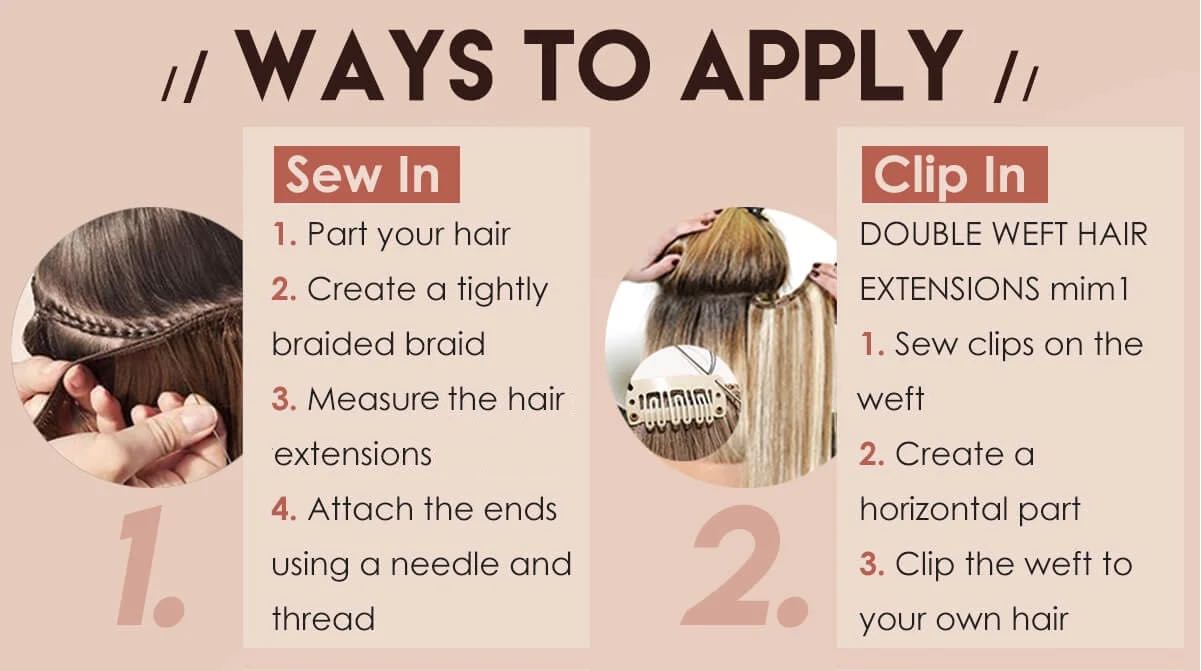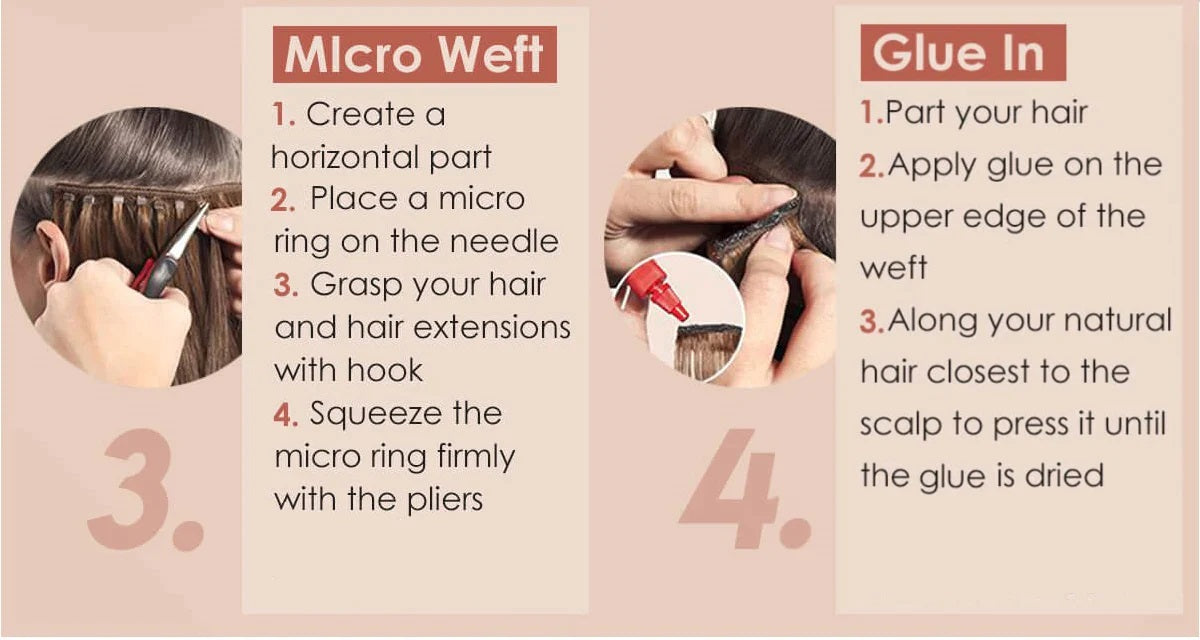 Sew In

Part your hair.

Create a tightly braided braid

Measure and cut the hair extensions.

Attach the ends using a needle and thread.
Clip In
Sew clips on the cut weft

Create a horizontal part

Clip the weft to your own hair
Micro Weft
Create a horizontal part

Slide a micro ring onto the needle.
Use the hook to catch both your natural hair and the hair extensions.
Securely clamp the micro ring in place with the pliers.

Glue In
Part your hair

Apply glue to the upper edge of the weft.
Press it against your natural hair, closest to the scalp, and hold until the glue dries.

Allocate additional time for hair care. Hair extensions are prone to tangling, and having more hair will lengthen your time in the shower. Plan for extra hair maintenance in the morning. Dedicate an additional 10 to 15 minutes to your daily routine for preparation.

Frequently brush your hair. Extensions are susceptible to tangling. To maintain a fresh and natural appearance, brush your hair at least twice a day while your extensions are installed. Keep in mind that hair care might require additional time when wearing extensions.

Protect your hair during the night. Since hair extensions are more prone to tangling, it's important to secure your hair while sleeping. Gather your hair into a gentle ponytail or braid before going to bed. Sleeping on silk pillowcases can also be beneficial.