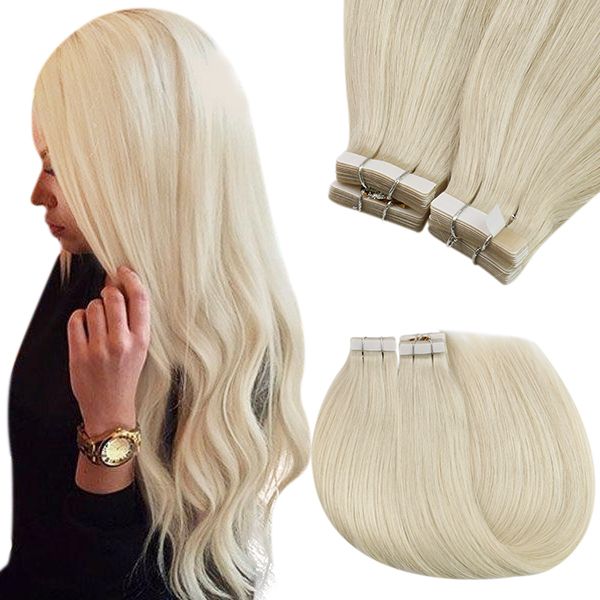 Sunny Hair Tape in Extensions in Lightest Blonde Human Hair Extensions #60
Original price
$48.99
-
Original price
$213.99
About 150-200g for a full head.
Sunny Hair Tape in Extensions
>Description <

> Why Choose Sunny Hair Tape in Extensions <

> Length & Weight <

> Put in & Remove <

> How to Wash Hair with Tape in Extensions <

> FAQ <
2.5g/piece, 20pcs/50gram per pack, 40-60pcs for full head attachment.

0.8 cm x 4 cm

Silky straight, would get a little wavy after washing or improper packaging.
100% Real Remy human hair, Natural, Smooth, Soft, No Tangle and Shedding Free.
You can curl, straighten, and restyle it just like your own hair.
It is possible to dye the hair, but only from a lighter color to a darker one. We recommend conducting a dye test on ONE piece before applying color to the entire bundle.
> Why Choose Sunny Hair Tape in Extensions <
1- Invisible & Natural: Our tape extensions use ultra-thin, transparent tape that seamlessly blends with your scalp, giving you a natural appearance as if the hair is your own. It's completely undetectable and authentically natural. Plus, our use of healthy materials ensures your hair remains undamaged, providing a comfortable and genuine feel.
2- Durable: Sunny Hair's tape extensions are crafted from genuine human hair, maintaining thickness from roots to tips. Designed to meet salon-quality standards, these extensions are both robust and lightweight, striking the perfect balance. Once professionally applied, they can last anywhere from 1 to 6 months, offering lasting satisfaction.
3- Convenient & Versatile: Applying and removing our tape extensions is a breeze, thanks to their user-friendly design. Perfect for daily wear, work, or special occasions, they seamlessly enhance and lengthen your hair. Enjoy swift transformations with our extensions, leaving everyone unaware you're wearing them.
4- Reusable: Our tape-in hair extensions are designed with sustainability in mind. You can easily reuse them by replacing the tapes, saving time and maintaining their premium quality.
There may be differences in the position of the hair, reaching different heights.
If you need to match length, please contact us: service@g-sunny.com
If you need color custom or match, Please contact us:service@g-sunny.com
1. Part your hair where you intend to attach the tape-in extensions.
2. Isolate a small strand of your hair.
3. Uncover a single tape-in extension piece and remove the protective backing.
4. Position this extension piece beneath your natural hair, approximately 1 cm away from the root, and firmly press.
5. Uncover another tape-in extension piece and peel off the backing. Place it atop the first piece, forming a layered effect.
6. Gently apply a hair straightener to secure and bond the tapes together.

> How to Remove Tape in Hair Extensions <

> How to Wash Hair with Tape in Extensions <
Caring for your tape-in hair extensions during showers demands extra attention. To ensure their durability, it's crucial to follow these maintenance guidelines. Avoid washing the hair for at least 48 hours after attaching the extensions to achieve long-lasting results.
Brush your hair thoroughly before entering the shower.
To prevent tangling, make it a habit to brush your hair 2-3 times daily. This step is essential to maintain the integrity of your hair extensions.
Opt for a suitable extension shampoo.
Start with a shampoo formulated for extensions. While washing, begin at the roots and gently move the shampoo down the hair. No need to shampoo all the way to the tips. This safeguards the extensions' condition.
Typically, 3 packs (totaling 60 pieces) are needed to achieve the desired length for your client. You're aiming to match their existing hair density. For thicker hair or shorter layers, consider 4 packs (80 pieces); finer hair might require 2 packs (40 pieces) for a full head.
Can I swim, exercise or go in the sauna?
Absolutely! We suggest using conditioner before swimming to provide nourishment and allow the hair to absorb moisture. This safeguards the hair against absorbing chlorine and minerals, which can be damaging. To prevent tangling caused by sweat and dirt buildup, advise clients to tie their hair up or in a ponytail during exercise or sauna sessions. Post-workout, it's important to wash the hair and brush it both before and after exercising. Avoid exposing extensions to sunscreen, as it might lead to discoloration.
Can I use Hot Tools on my Tape-in Hair Extensio

ns?
Absolutely, feel free to use hot styling tools like curling irons, wands, flat irons, and blow dryers on your extensions. Apply a heat protectant to each section before using heat, and make sure the tool's temperature doesn't go beyond 160 degrees Fahrenheit. Remember, avoid applying direct heat to the extension tape tabs.
Can I Go to Sleep With Wet Hair?
We suggest that the hair is at least 80% dry and secured in a loose, low braid.
Do Tape in Extensions Ruin Your Hair?

The tape utilized in our Sunny Hair extensions is a medical adhesive that is hypoallergenic and made in the USA. Our tape-in hair extensions feature premium-quality, robust, and invisible double-sided tape that can be reused. This tape is completely invisible and provides a remarkably natural appearance. Our top priority is to ensure the use of hair-friendly materials that don't harm your natural hair, thus offering a comfortable and authentic wearing experience.