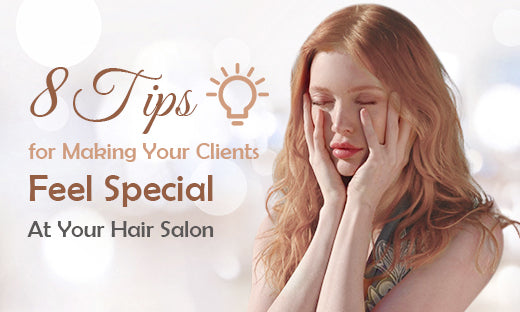 8 Tips for Making Your Clients Feel Special At Your Hair Salon
SunnyHair, as a professional hair extensions brand, has attracted many salon customers to become our loyal fans since its establishment. As the best of our wholesale customers, the development of these salon stores is closely related to the development of our brand. Therefore, helping salons grow quickly and steadily has also become one of our important tasks. This next article may provide some new ideas for the development of salons, if you are also a salon owner, also looking for some breakthroughs for the development of salons, please read on!
First, here's a question to ask yourself about about managing your hair salon — what can you do, as a salon owner, to ensure your clients keep coming back to you? Aside from keeping up with the latest hairstyle trends, what else can you offer your clients to make them feel they are well taken care of in your salon?
All businesses thrive because of their satisfied customers, that much is true. So in order for you to run a successful salon business, the most important thing you need to do is to make sure that your clients' time at your salon is worth their while. Happy clients will always find their way back to you when they feel that they have received nothing but the best quality service.
How do you make your clients feel special at your hair salon? Here are some tips to keep in mind.
1. Welcome your clients warmly into your hair salon
Some salons fail to make the right impression when when a client walks in. While it's considered standard to have someone greet them into the salon, you don't want to put too much pressure on them. You can simply ask them how they're doing that day and what services they're interested in. By showing them that they have your undivided attention on your first contact is enough to let them know that they're priority in your salon.
2. Be attentive to their needs
When welcoming new clients into your salon, it's important that you stay alert to their needs even after the introductions. And not just in the services that your salon specialize in, but also the little things like offering them a drink or something to entertain themselves with while they go in for their appointment. When it comes to presenting your services to an undecided client, don't just give them numerous options in one-go. Offer one or two suggestions. If they have questions, make sure to answer them with the utmost sincerity.
3. Offer suggestions, but don't take it personally when they refuse
Speaking of suggestions, there will be times when a client will still insist in having his or her own way even after you've said your piece on why it isn't a good idea. When this happens, remember to keep your cool and find a compromise that both of you will be happy with. Don't take it personally when they refuse to give into your suggestion. Channel your frustration into finding a creative solution.
4. Provide high quality hair extensions
Great hair extensions are a crucial point in attracting and retaining customers. When you are trying to find a good hair source, proceed with caution. Not every company is 100% honest about the quality of their hair. SunnyHair, a professional hair extension brand, focuses on producing and selling the best quality 100% real human hair extensions that is tangle-free, shed-free, and easy to color. We offers the most comprehensive and complete pre and after sales service, and is able to offer the most favorable and kind prices to salons. So far, we have cooperated with many salons and have always had a good reputation.
5. Work on building the relationship
Professional hair stylists and salon owners know that it takes more than just talent to grow the salon's client base, it also involves time and effort to build a solid relationship. By being relational with your clients, you'll have a better idea of what they want from you. You're expected to invest time and effort into knowing your clients on a more personal level so developing your people skills is a must.
6. Value time
From a client's perspective, time can be equally important to the quality of service so effective time management is essential. When you have a lot of clients lined up, it's your responsibility to make sure that your hair salon can keep up with that number. Having a busy salon is great but you don't want to have them all waiting in line that your stylists can't tell who 's going first.
7. Go the extra mile
Aside from stocking up on the latest magazines in your salon for your clients entertainment, go the extra mile and look for other forms of entertainment you can offer them while they're getting their hair done. Show a movie or hold a quiz day at your salon. Even the littlest of things can make a difference.
8. Stay connected
This may be the most important yet, especially with the many options today's technology has to help you stay connected. If you want your clients to remember you, staying in touch with them is a great way to make them feel special. Send them birthday greeting cards and offer them a hair treatment deal on their birthday or send them emails with helpful tips or exclusive invites to hair salon events. There's also social media marketing techniques that your salon can do.
If this article has provided you with some new inspiration and ideas, then our efforts are worthwhile.
If you are interested, you are also always welcome to be our partner. We will definitely provide you with products and services that will satisfy you!
Wish you better and better development of your salon store:)