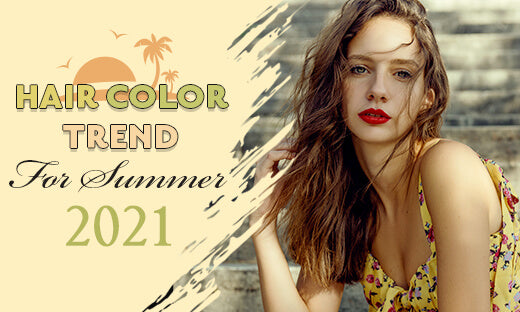 Hair Color Trend For Summer 2021
Thinking about making a subtle or bold hair color change for the warmer months ahead? The summer season is an excellent time for changing up one's hair. We've brought you 8 amazing summer hair colors for this thumping summer to come. So, whether you're just taking a dip in the color pool, or going for a full dive into dimensional color —these hair color ideas will leave you more than inspired!
Hair Color Trend 1: Soft Blonde Balayage
Highlights rooted in the natural color you were either born with, or just got inspiration from a baby you know (they have the best natural color). This coloring technique steps up lived-in, natural color.
Hair Color Trend 2: Ice Queen
Keep it cool with a chill icy color this summer! Go for ice blonde, and throw on some silver and grey for a monochromatic look that's sure to melt hearts.
Hair Color Trend 3: Caramel Honey Brown
A warm honey brown is gorgeous for summer. For natural brunettes, try adding dimension and warmth with subtle highlights in rich toffee browns, or even ashy blondes to frame the face and liven up olive skin tones. Even the tiniest addition of honey can warm up your skin and eye color.
Hair Color Trend 4: Dimensional Color
Going lighter in the summer is ultra alluring when you mix your natural shade with dimensional highlights. The overall affect is sun kissed and subtle, so again inspiration from a baby for your summer hair isn't a bad thing!
Hair Color Trend 5: Pearly Gold Balayage
"This look is effortless and screams summer," says Jimieson. He says the golden blonde shade is perfect for people with natural medium or light hair who want something bright and low-maintenance. "Ask for classic balayage highlights, slightly off the root, minimal toning," says Jimieson.
Hair Color Trend 6: Hand Painted Blonde
Go for platinum in the warmer months to stay cool in summer, but have your colorist paint on the color for rich dimension.
Hair Color Trend 7: Blonde Summer Hair
Blonde and brown mixed together makes for the ultimate blonde — throw in a bob — and you're all set for summer.
Hair Color Trend 8: Nude Hair (AKA Neutral Blonde)
We saved the hottest trend — and the easiest to try — for the end! If you're thinking about going blonde, try nude hair (also referred to as neutral blonde) as it suits every skin tone. Neutral blonde contains an equal amount of both warm and cool tones making it flattering for everyone and the easiest way to go blonde this summer.
So, does warmer weather have you itching to try a new style? Give one of these summer hair colors a try in 2021. Have fun this season, don't be scared! Color is everything, but it can always be adjusted to suit you perfectly. Don't stop until you've honed down a color that's perfect for you!