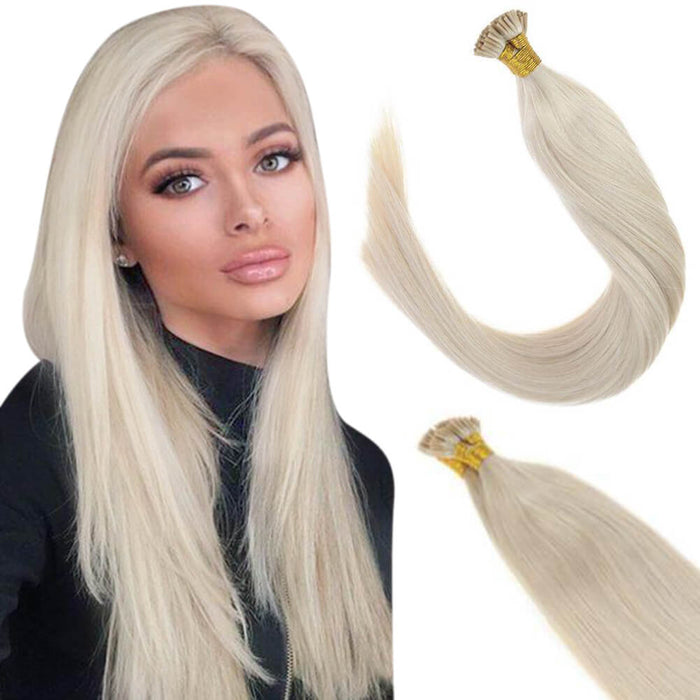 Keratin Stick I Tip Lightest Blonde Human Hair Extensions #60
Original price
$40.99
-
Original price
$180.99
About 150-200g for a full head.
Stick I Tip Human Hair
>Description<

>Advantages<

>Help you Apply<

> About Remove <

>Color Match<

>About Prebonded Hair<

>?FAQ?<
14" to 24", 1g/strand, 50g/pack

100-150 gram for full head attachment.
Silky straight, would get a little wavy after washing or improper packaging.
100% Real Remy human hair, Natural, Smooth, Soft, No Tangle and Shedding Free.
You can curl, straighten, and restyle it just like your own hair.
It is possible to dye the hair, but only from a lighter color to a darker one. We recommend conducting a dye test on ONE piece before applying color to the entire bundle.
Long-Lasting: Enjoy the benefits of durability as our extensions can maintain their quality for up to 3 months before needing maintenance.
Hair-Friendly: Our extensions are applied using micro rings and shrinkies by professionals, ensuring a heat-free method that prioritizes your hair's health.
Natural Look: Experience seamless blending with virtually undetectable micro ring attachments due to their tiny size.
It's crucial to consult a certified hair extension technician for the removal of your hair extensions. Entrusting this process to a skilled professional who employs the right tools and techniques guarantees the safety of your hair. We strongly advise against attempting to remove extensions at home, as improper use of pliers can result in hair damage.
There may be differences in the position of the hair reaching different heights.
If you need any help, please contact us:service@g-sunny.com
Pre-bonded hair extensions, commonly referred to as keratin hair extensions, tip hair extensions, or (hot or cold) fusion hair extensions, hold a significant place in the world of hair extensions. With the longest history among all types of hair extensions, they continue to be the top choice for numerous individuals.
More
blog
Yes, you can dye our human hair extensions. Remember, it's best to go from lighter to darker shades. We strongly advise seeking a professional hairstylist for the dyeing process to ensure optimal results.
The lifespan of your hair extensions largely depends on your maintenance routine. With proper care, treating them as you would your natural hair, they can last well beyond 6 months.
Dry hair might be the cause. Ensure regular washing and conditioning, aiming for at least once a week, preferably twice. Regular combing can also prevent tangles. If the problem continues, seek advice from your stylist.