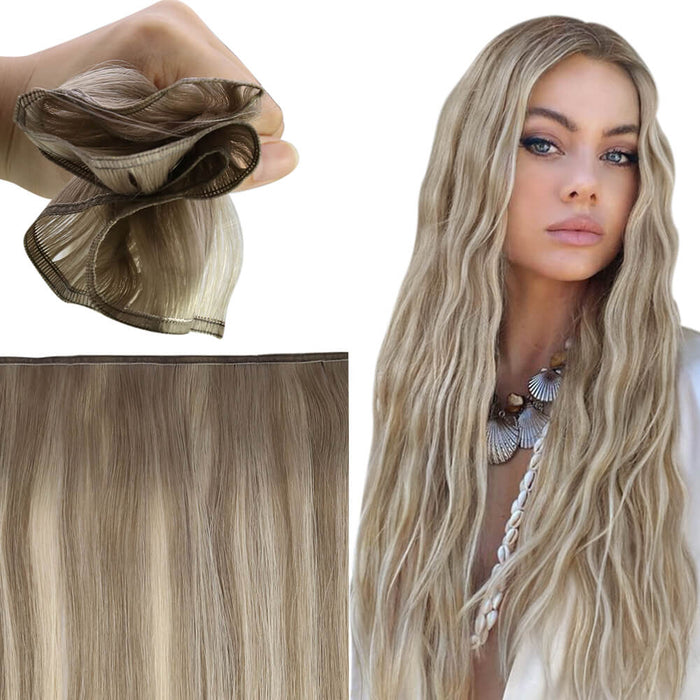 Sunny Hair Flat Silk Weft Hair Extensions 100% Virgin Human Hair Balayage Brown #8/8/613
Original price
$118.68
-
Original price
$567.43
About 150-200g for a full head.
>Description of Flat Weft Hair<

>Advantages of Flat Weft Hair<

>Remy Hair VS Virgin Hair<

>Length & Color<

> Apply & Care<
>Description of Flat Weft Hair<
Hair Quantity

50 g/bundle

1 mm in thickness and 10 mm in width
Color matching service is available.
Silky straight, would get a little wavy after washing or improper packaging.
100% real Virgin Flat Silk Human hair, natural, silky, and soft.

Can be curled, straightened, and restyled as your own hair.

Can be dyed, but only from a light color to a darker one, please take ONE piece for testing before dying all the hair.
>Advantages of Flat Weft Hair<
No Return Short Hair At The Top Of The Weft
There is around 0.8"-1" return short hair for machine weft, 1.5"-2" return hair for hand-tied weft, unlike both of these 2 kinds of wefts, flat silk weft has no return short hair at the top of the weft, which will be more comfortable for your clients' own scalp.
Stronger After Attaching A Piece Of Silk
We can not ignore the fact that there's a risk of hair shedding if the returned hair of the machine weft is not handled well, or when you cut the hand-tied weft, as they shed easily. However, flat silk weft perfectly avoids this issue, it will not shed any hair or weaken the strength after attaching a piece of silk because the silk solidified the weft firmly.
Comparing with the machine weft and the hand-tied weft, flat silk weft is quite thinner. As there's no return short hair, the weft is only sealed by extremely thin silk, which makes it very comfortable to wear and has no bulky feeling.
Cut Freely According To Your Clients' Head Circumference Without Shedding
Though it will be a long weft when you're received, your clients' could cut it in any width to match with their head circumference. Don't worry about the shedding, it will not have this issue. It has been specially treated by our factory technicians.
>Remy Hair VS Virgin Hair<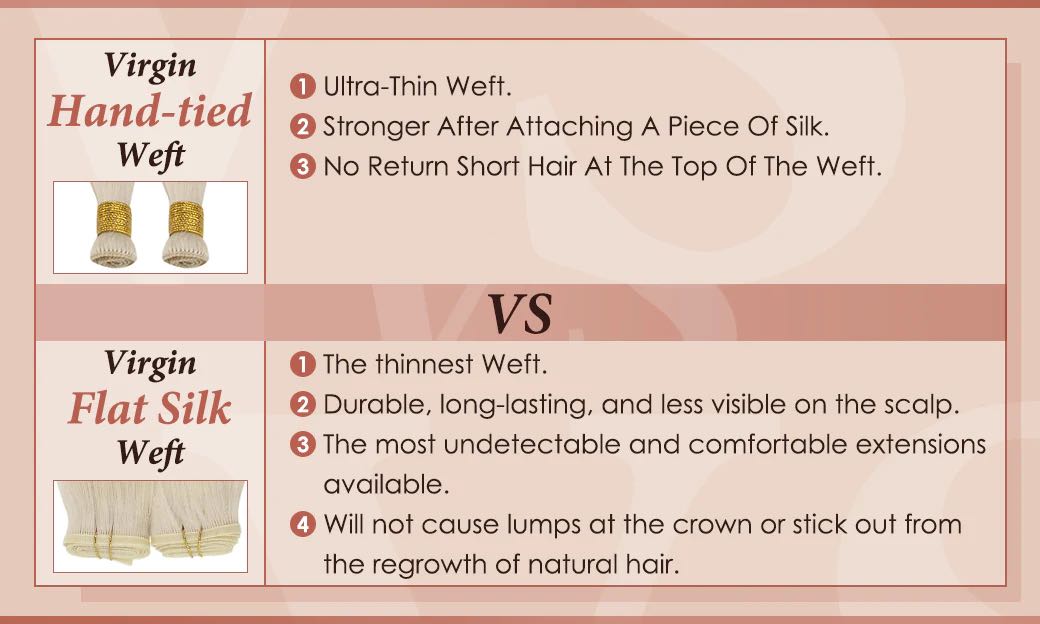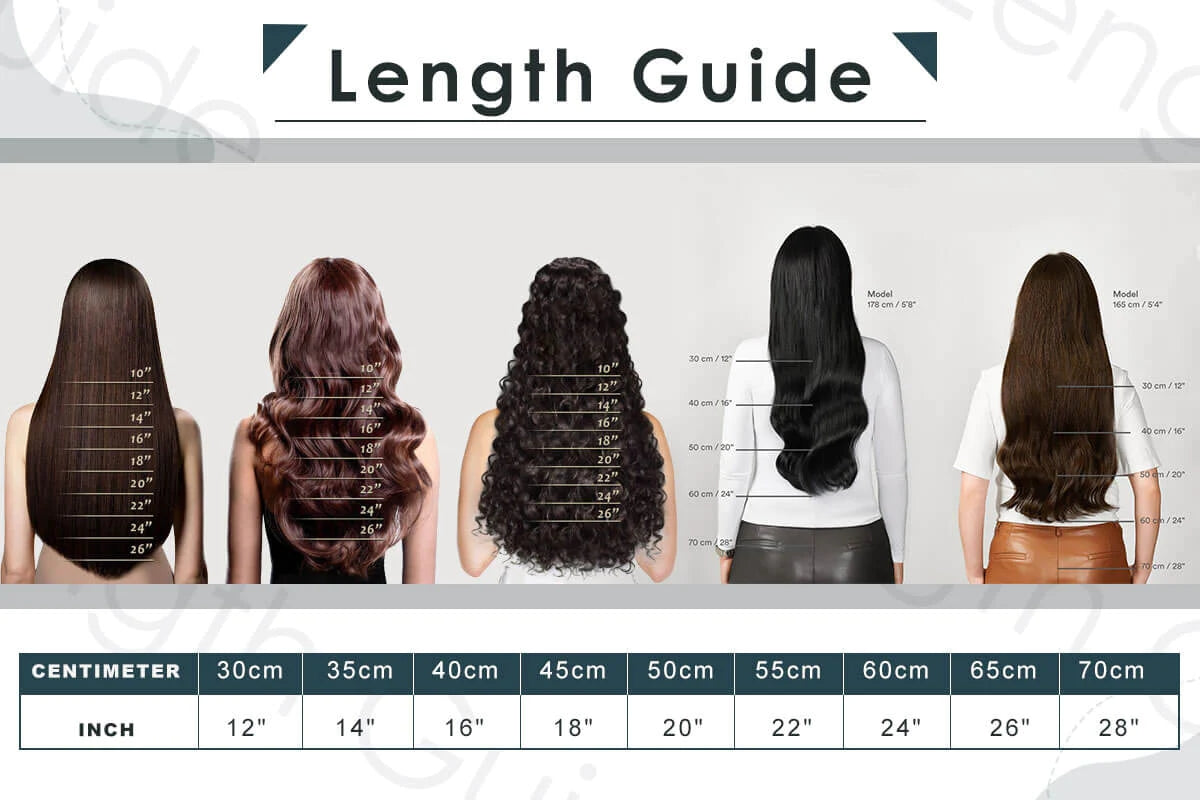 There may be differences in the position of the hair reaching different heights.
If you need color custom or match, Please contact us:
service@g-sunny.com
Sew In
Part your hair

Create a tightly braided braid

Measure and cut the hair extensions

Attach the ends using a need lead thread
Clip In
Sew clips on the cut weft

Create a horizontal part

Clip the weft to your own hair
Micro Weft
Create a horizontal part

Measure and cut the weft

Place a micro ring on the needle

Grasp your hair and hair extensions with hook

Squeeze the micro ring firmly with the pliers
Glue In
Part your hair

Measure and cut the weft

Apply glue on the upper edge of the weft

along your natural hair closest to the scalp to press it until the glue is dried



Take extra time for hair care. Hair extensions tangle easily and extra hair means you'll take longer in the shower. Make sure to account for having more hair in the morning. Give yourself an extra 10 to 15 minutes to get ready every day.
Brush your hair regularly. Extensions are prone to tangling. To keep your hair looking fresh and natural, brush your hair at least twice a day while your extensions are in place. Remember, hair care may take extra time when you're wearing extensions.
Secure your hair overnight. As hair tangles easier, you should secure your hair overnight while wearing extensions. Pull your hair into a loose ponytail or braid it before bed. It can also help to sleep on silk pillows.
1) How Is The Flat Silk Weft Produced?

It is about a weft sealed by a piece of silk, without return short hair at the top of the weft. Single-layer and double layers are both available and useful, which is up to how much hair your client needs.

2) How To Distinguish It From The Common Wefts?

Return short hair

The thickness of the weft edge.

No return short hair at the top of the weft.